A Rogue's Pocket Guide to Skills and Secrets
Compiled and written by Taliesin Gwion Bach in Dark Ages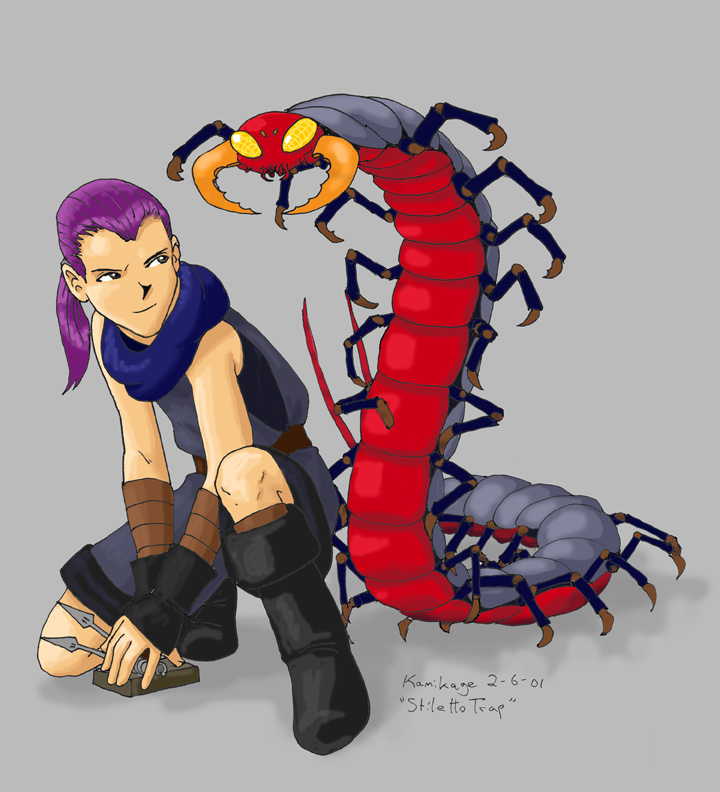 Contents:
Offensive Traps: Needle, Stiletto, Coiled Bolt, Bolt
Defensive Traps: Blind, Sleep, and Poison
Strikes: Assail, Stab & Twist, Throw Surigam
Confusion: Amnesia, Beag breisleich, Breisleich, Throw

Smoke Bomb
Tailoring
Hairstyling
Gem Polishing

Smithing: Weapon, Ring
Naming Skills: Appraise, Lores (Food, Armor, Missile)
Enhanced Observation: Look, Nis, Study Creature, Sense,

Peek, Eisd Creutair
Taunt
Hide

Unlock

Mending: Mend Weapon, Soori, and Garment

Lectures: Guide, Mentor, Arms
Appendix I: Requirements and Locations
Appendix II: Equipment for Rogues
(( Please note that this introduction and some other portions of this guide are written within double parentheses. When you see information contained within double parentheses ((…)), it means that I am speaking out-of-character to help you better understand a concept, or explanation. For the most part though, I have stayed in character, wherever possible. ))
This is not a manual with which you will learn everything about Rogues. I am focusing only on the skills and secrets of the Rogue, in the hopes that you can learn, understand and master them more quickly than I did. I have included, for your convenience, appendices at the end of this guide listing where in Temauir you may buy Rogue equipment, learn our secrets and skills.
Traps are the best weapons a rogue has. If used properly traps can be extremely useful secrets when hunting in a group, and invaluable when hunting alone. You will eventually learn many traps including blind, sleep, and bolt. While we may not have the physical power of a Warrior, or the Martial Arts skills of the Monk, we have excellent armor, and an arsenal of traps. I plan to teach you how to use each of your traps to it's full potential.
Offensive Traps
The first trap you will receive is the Needle Trap. It is the least powerful of all the traps you will receive, but even it is very affective if you are hunting alone. The most effective way to use needle trap is to first get one creature's attention. Once the beast is attacking you, run a few steps away and cast needle trap. The reason you must take a few steps away, is that the secret takes about 4 seconds to cast (during which time you cannot move, or the trap will not set properly), and you don't want the beast to catch up to you and injure you while you're setting the trap. After you set the first trap, run a few more paces ahead of the creature and set another needle trap. When you lead a creature over the spot you set your trap, it will injure your enemy. Continue setting traps, and running, 'til the beast is dead.
This strategy works with most of your traps, including Needle, Stiletto, Coiled Bolt, and Bolt. These four traps all hit your enemy with a blow, as if you had struck the beast yourself. From weakest to most powerful the Rogue's offensive traps would be ranked as follows: Needle, Stiletto, Coiled Bolt, and Bolt. There are some defensive traps as well, but for now, I will continue with the offensive ones. As I have said, these traps work well alone, as they are more powerful than your assail, but in a group they are unpractical. When a group hunts, regular procedure is for the Priests and Wizards to stand back and cast their secrets. while the Monks, Rogues, and Warriors surround and attack their chosen creature. In a group hunt, keeping the creature in one spot is preferred, so everyone can attack it without having to chase it around everywhere. If the creature is being kept in one spot, it cannot run over your traps. Even if the creature was running freely around your group, who's to say that it will chase you instead of one of your companions? So you see, offensive traps work very well alone, but in my opinion, are not practical when hunting in a group.
Defensive Traps
Fear not, for the rogue does play an important role in group hunting, due greatly in part to our defensive traps. The defensive traps consist of Sleep, Poison, and Blind. Please note that Poison trap is technically of an offensive nature, but due to the strange power of poison, and how you incorporate it into your fighting style, I have included it with the defensive traps. Defensive traps are, in my humble opinion, more versatile than the offensive variety. If used properly, they can be very helpful when hunting alone and just as useful fighting with other Aislings.
Poison Trap is almost all-purpose. It slowly drains vitality from whatever creature walks onto your poison trap. As a result, it is very useful to use any chance you get. If you are about to set a row of stiletto traps, for example, set a poison trap in front of them. This way, the beast's vitality will slowly be dropping, even before it lands on your stiletto traps, and while it is walking over them.
Blind and Sleep Trap are very similar, but with slight differences. Both lower the defenses of the beast you are attacking, and lesson your chances of being attacked. If a creature stumbles onto your blind trap, it will stop moving, and will not attack you…usually. When blinded, creatures can't see anything around them. If they can't see you they can't attack you right? Wrong. If you walk up to a blind creature and start attacking it, it will feel your blows, know that you are standing next to it, and fight back, even though it can't see you. Sleep is different, and slightly improved. If a creature finds one of your sleep traps, it will fall into a slumber, although Sleep traps do not last as long as Blind traps. When a creature is sleeping, it will not attack you until it wakes up. It has no idea what is happening around, or to it, and is no danger to anyone until it wakes up. If you intend to physically bash the creature, I would suggest sleeping it, although if you just need to slow a creature down, I would use Blind, since it does stay cast longer than Sleep.
When hunting alone, I like to set a blind trap, then once the creature has walked onto the trap and is dozing, set a row of offensive traps (usually 3 or 4 of them). After the creature wakes up and starts to walk over the needle/ stiletto/ bolt traps, I like to cast another blind trap, and another row of offensive traps. If you use this strategy, you will notice that creatures die rather quickly, and you receive virtually no physical assault against yourself. If you set a poison trap somewhere in your row, the beast will perish all the faster. Another use for Sleep and Blind traps when hunting alone is to cut down on the number of creatures attacking you. If you have 2 creatures chasing you, you could cast a Blind trap, and lead one of them over it, so you can concentrate on the killing the other one without taking a double assault.
Defensive traps make the rogue a valued member of any hunting party that is in a busy area. Often groups find themselves overrun by many creatures. If this happens, it is the Rogue's job to run interference. If your group is all attacking one goblin, for example, and two more run out of the bushes ready to attack, you can very effectively keep the other two Goblins preoccupied, until your group has finished off the first beast. What you should do, if you ever find yourself in a situation like this, is to get the attention of the unwanted creatures (by hitting them, or taunting them) then, once they are following you instead of your hunting party, set some Blind and Poison traps. Essentially you just keep the extra creatures distracted so the rest of your hunting party can fight more productively against one creature at a time.
Strikes
Assail is a skill all Aislings are born with. As you may have guessed from its name, it is your basic assault. When you hit a creature, it is Assail that is being used. ((Assail does not require activation to work. When you press the spacebar to attack, it automatically uses your Assail.))
Stab & Twist is a fighting skill that must be used in conjunction with a Soori knife, or a Surigam. It will deal an especially hard blow to the creature you are attacking, as long as you are standing directly in front of the beast.
Throw Surigam is a skill that does much more damage per hit than Assail. It allows you to injure a creature from a distance, over an Aisling's shoulder, or even through a wall. Basically, although it looks like you are fighting with the air, you can throw your dagger or secret at a creature many paces away (but don't worry, you don't lose your weapon by doing this…it will come back to you every time). Like Stab and Twist, you must be carrying a Soori knife, or a Surigam for this skill to work. This skill works well when combined with offensive and defensive traps. While a creature is blind, asleep, or running towards you through a row of your traps, you can use Throw Surigam to hit them, even though you are not touching them. You can hit a creature from many paces away, as long as it is directly in front of you (by this I mean that you and the creature must be standing in a straight line). This is, in my opinion, one of the greatest skills given to Rogues, but for optimum performance, it must be continually practiced. Like I did, you will probably get very frustrated with the effectiveness of this skill at first, but if you keep practicing, you will get amazing results.
Confusion
Rogues are masters of confusion. There are two secrets. Beag breisleich and Breisleich, and two skills, Amnesia and Throw Smoke Bomb, which you can use to confuse your enemies. For the moment I will speak only about the first three.
((All three are used the same way: activate the skill/secret, click on the creature you wish to confuse.))
Amnesia is the least effective of the three, only making the creature temporarily forget about attacking you. Beag breisleich and Breisleich both make your chosen creature forget about you and/or attack the other creatures. Beag meaning "little" you will notice that Beag breisleich is not as affective at Breisleich, which you get at a later time than the lesser secret.
Throw Smoke Bomb, contrary to popular belief, is very different from Throw Surigam, although it requires that you have a certain level of expertise at Throw Surigam (level 30). This skill only works if you have a Smoke Bomb in your inventory. Smoke Bombs can be made by Rogues at some mundane shops, and require blue powder to create. Blue powder is made by Wizards, so if you know a Wizard who can make you some, you may wish to turn them into smoke bombs for yourself. You can also buy Smoke bombs in the same shops where you make them.
Once you have a bomb in your inventory, activate the skill just like you would activate Throw Surigam, although you don't need to aim at anything in particular with Throw Smoke Bomb. Once you use the skill, one of the Smoke Bombs in your inventory will be used, and all the creatures ((that are visible on your screen)) will be blinded by the smoke.
There are many skills a rogue may learn which require labor. When I say labor, I mean the "time" that each Aisling is allotted. Every 4 Temauir days ((12 Terran hours)) each Aisling receives 5 days worth of labor. This labor can be used for things such as voting for someone, tailoring, smithing weapons, etc., although not all laboring skills require the same amount of time. If you, for example, tailored a garment, it might use up 3 days worth of labor, while you could smith many weapons before using up all of your time. This laboring time is like gold for us Rogues. We have so many laboring skills that we can do, and so little time to do them in. Unfortunately once you use up your 5 days worth of labor you must wait 4 more days ((12 Terran hours)) before your time is renewed and you can use more laboring skills. Fortunately, there is a way to get some extra laboring time, if you need it. Many Aislings (namely Priests, Warriors, and Wizards) don't consider their laboring time as invaluable as we Rogues do. They can often be persuaded to sell their laboring time if the price is right. ((To "labor for" or give your time to someone, you must go to a bank and select the option "Labor", then enter the Aisling's name whom you wish to labor for.)) The laboring skills that Rogues may learn include Tailoring, Hairstyling, Gem Polishing, Weapon Smithing, and Ring Smithing. All these skills can be done alone or with an assistant. If you get another Aisling to assist you, your chances of success are improved. Also take note of the fact that if you assist someone doing a skill, it will not take away your laboring time. Only the labor time of the person actually using the skill will be depleted, not the assistant's.
((Please note that with the laboring skills, it is required that you put the item you mean to improve/ alter into the top leftmost spot in your inventory))
Tailoring
Tailoring is a skill, which allows you to improve the quality of a piece of clothing. There are four qualities of improved clothing: Good, Fine, Grand, and Great. Regardless of what kind of clothing you are tailoring, good would improve the armor class by 1, Fine would improve it by 2, grand by 3 and great would have an armor class 4 points higher than an untailored garment. When you Tailor a garment you will either make one of these qualities, destroy the garment, or not improve it at all. Your level of success depends on how skilled a tailor you are.
You may have noticed that certain Mundane shopkeepers mention Male and Female Tailoring. If you tried to speak to the Mundane about tailoring without learning the Tailoring skill, it is likely that they will not say a word to you about the subject. If, though, you have learned the Tailoring skill, the Mundane will allow you to work on your least most powerful garment (so if you have 2 or 3 pieces of clothing in your inventory, the least powerful garment will be tailored). I, as a rule of thumb, make sure I am only carrying the garment I mean to improve, and put all other clothes I am carrying in the bank, or give them to a friend to hold onto. Once you have chosen to work on your least most powerful garment, the Mundane will ask you if you wish to tailor alone or with an assistant. (An assistant will always improve your chances for success, and is preferable if you can find someone to help. Alternately, you may be asked to assist another Aisling in a skill. You will be happy to hear that assisting someone with a skill will not use your laboring time, only the Aisling doing the smithing/ tailoring/ etc. will use up labor.)
Gem Polishing
Gem polishing is a secret known only by rogues. There are many places in Temauir where gems may be found, and many Mundane shopkeepers who will buy gems. There are many grades of gems and each grade has a different value. The gem qualities from worst to greatest include: Fragment, Flawed, Uncut, and Polished. The skill of Gem Polishing can turn fragments, etc. into polished gems, which can be sold for a much higher price.
To polish a gem, you must cast the Gem Polishing secret, drop a copper coin under your feet, and begin. You must, of course, have a gem in your inventory if you wish to polish. This secret doesn't require you to go to a certain place, or shop to use it. You may cast it anywhere in Temauir where magic is allowed.
* Please note that although I have grouped Gem Polishing with the laboring skills, it is, in fact, a secret.
Hairstyling
Hairstyling is a skill known only to Rogues. It allows you to style or dye another Aislings hair, although you cannot use this skill on yourself, thus you are unable to style or dye your own hair. Once you have learned the Hairstyling skill, you can dye/ style hair at most banks in Temauir as long as you and the Aisling whose hair you are altering both have laboring time. ((You simply go to a bank, select the "hairstyle" option, and enter the individual's name that wants the style. They will take over from there, choosing the color or style.))
Smithing
Once your level of Gem Smithing reaches 5, which will rise as you polish gems, you will become able to smith rings out of the gems you collect and polish. Ring Smithing is not a skill learned from a mundane, but rather, it is a skill that you are naturally able to do when you are good enough at polishing gems. Many armor smiths in Temuair will let you use their equipment to smith rings once your Gem Smithing has reached level 5.
Weapon Smithing is almost identical to tailoring in principal, except that you are improving a weapon instead of your clothes. You may do this skill alone or with an assistant, and you can turn a regular weapon in to one of Good, Fine, Grand, or Great quality. Please note that this skill can be used to improve Warriors' swords, and Rogues' Soori knives and Surigams. Again, you run the risk of destroying or not improving the weapon if you are not experienced at this skill. Most Smiths will let you use their shop and equipment, and if you have an assistant, your chances of success will be greater than alone.
Other Uses for Labor
While the above listed skills require varying degrees of your laboring time, there are some other things that require labor. You may want to keep the following list of other actions/events which require your labor: voting, attending class at college, higgling at the bank, teaching a student using the mentor secret, getting your own hair styled or dyed by another person, and making smoke bombs. It is often very difficult to juggle all the tasks you wish to complete with the little laboring time you have, so use your time wisely.
Naming Skills
There are many skills which identify (or name) one type of item or another. In order to sell an item to a Mundane shopkeeper, or deposit it into your bank it must be identified. Many items may be of a particular quality, or enchanted in some way. Until identified, the item will seem just like a regular item, but once identified, it shows it's true attributes. For example, you may find an amber necklace, which after identified, is in fact a wind amber necklace. Until named, you would be unable to put items like this in the bank. Some things that may be named are potions (made by monks, priests, and wizards), clothes, armor, jewelry, gems and weapons.
((*To use a naming skill, you must put the item you wish to identify in the top left position in your inventory then activate the corresponding skill.))
Appraise is a skill used to identify gems. A "raw" gem, once appraised could turn out to be a fragment, flawed, uncut or finished gem. Once appraised gems can be deposited in the bank for future use, or sold to certain mundane shopkeepers.
Armor lore is a very useful skill for discovering information about clothing. It will tell you many useful bits of info like the armor class, what insight an Aisling must be to wear it, and, if the item has been improved by tailored, it will name the item (good, fine, etc.) so that it may be put in the bank. The items that may be named using Armor Lore are Greaves, Shields, Helmets, Bracers, Gauntlets, and Necklaces.
Missile Lore will identify any Rogue weapon. Similar to Armor Lore, you will discover many useful bits of information about the weapon such as weight, Hits, and Damage. It will also identify whether it is a regular or improved weapon, and if improved, will now be able to be deposited in the bank.
Food lore will tell you what nourishment an edible item has. For example, if it is a poisonous food, it would tell you how many health points it would remove upon eating, while if it is healthy, it will tell you how many health points you would gain by eating it.
Enhanced Observation
There are many skills and secrets available to Rogues that will give you information about a person, creature, or place that are undetectable to the average Aisling. We are able to peak into an Aislings inventory, sense how healthy a creature is, and more.
Nis is a secret that will tell you what time it is in Temuair.
((Once you cast it, you will see the current Temuairan date and time in the orange bar below your view screen.))
Look is a skill, which identifies where in Temauir you are. If a creature is standing in front of you when you "Look", it will name the creature as well. This is a very useful skill if you have gotten lost, or need to tell someone where to meet you. Look will tell you which town you are in, as well as the particular shop or room.
Study Creature is an invaluable skill, which gets more and more useful, the more you practice it. When you begin using this skill, it will tell you the name and maximum experience of the creature you are facing and standing in a line with (you don't need to be directly in front of the creature, just aimed at it so to speak). As you practice eventually you will discover the Hit points, Mana points, Insight, Attack nature, and Defense nature of the creature.
Sense is similar to Study Creature, but instead of telling you about a creature, it tells you about an Aisling. Like Throw Surigam and Study Creature, as long as you are in a direct line, facing your subject, and not too far away, it should work. At first this skill won't tell you everything, but with practice you will be able to sense an Aisling's name, health points, mana points, attack and defense element.
Peak is a skill made for the curious Rogue. With it you can peak into anyone's inventory and see exactly what he or she is holding. To use this skill, stand in a straight line with the person you wish to peak on, facing them, and activate your skill.
Eisd Creutair is a secret which let's you see invisible Aislings. It lasts about as long as hide, and for the entire time that it is cast, you will see a blue hazy figure anywhere there is an Aisling using Hide.
Miscellaneous Skills and Secrets
Taunt
Taunt is a secret known by all young Aislings. ((All that is required is that you activate the secret, then click on the creature you wish to antagonize, and wait for the secret to finish casting.)) Once hit with Taunt, as long as the magic wasn't deflected, the creature will start walking towards you, ready to attack. Taunt is very useful if you don't enjoy chasing creatures before you attack them, or if you wish to get the attention of a non-hostile creature.
Hide
Hide is an indispensable secret for gaining wealth as well as defending yourself against ambushes of creatures, or especially tough beasts. In hide, no creature (that I have seen) can detect you. You may walk around, hidden from Aislings and creatures alike, for upwards to 2 minutes. When using hide to go into very dangerous areas where you would die if visible you must be very careful. If you hit a creature or use another secret while in hide, you will instantly become visible and vulnerable. Although not an issue for older rogues with a lot of mana, young Aislings should take note that hide uses 200 mana. You should always keep an eye on the amount of mana you have, so you always have enough to hide when you need to.
Unlock
Unlock is a wonderful skill for the lone treasure hunting Rogue. You may have noticed the chests scattered about in the Mileth Crypt; those chests are there just for us. Inside them are many treasures including gems, gauntlets, rings, belts, etc. that only Rogues can access. I'm sure you've seen the Special Skills Trainers selling Lock Picks. If you are wearing a Lock Pick, know the Unlock skill, and are lucky, when you walk in front of a chest you will be able to open it and access it's hidden treasures. You will not be able to unlock all, or even most of the chests at first, but keep trying and you will be a world class treasure hunter in no time. One danger I must mention to you is that treasure chests are often booby-trapped with poison. As soon as you open some chests, you will be poisoned for a minute or so. Because of this, it is always a good idea to bring some Personica deums (poison curing potions), or if you don't mind sharing your loot, bring a monk or priest with you instead, who knows how to cure poison.
Mending Skills
As you may or may not know, when you are in battle your armor and equipment wears down. The typical solution is to go to a Smith shop and pay the Mundane to fix your equipment. As Rogues, we have a few convenient skills, which alleviate the need to pay a Smith. Why pay someone else when you can do it yourself? Mend Weapon, Mend Garment, and Mend Soori are all Rogue skills which you can use to fix your equipment yourself. The basic use of these secrets is the same; make sure the item you wish to mend is in the top leftmost spot in your inventory, and activate the skill. Mend Soori fixes only Soori Knives, Mend Weapon will fix any type of weapon be it a Surigam, Soori, or Sword, and Mend Garment will repair your clothes, shields, belts, etc. (most of your equipment aside from weapons). I must add a warning though: before you get good at these skills, you may destroy a few pieces of equipment. Occasionally when you fail at repairing an item you will in fact destroy it in the process.
Lectures
Mentor is something that most Aislings do at Dar or Devlin's shop. There is a Mentoring secret you may learn, which will allow you to become someone's mentor, cast mentor to give him or her experience, and to complete the mentoring cycle at your student's 11th insight. This secret can be used anywhere in Temuair where magic has not been banned. At a time when your student is with you ((on the same screen)) cast the Mentor secret, then throw a coin under your feet and pick it up again. This should activate your mentor secret.
Guide is similar to Mentor in that it is a secret you cast on your students. The usual way to cast Guide on a student is to take them all the way back through the Temple of Choosing, and get one of the Mundanes to assist you in. If you have this secret, you do not need to walk all the way through the temple. Like Mentor, you can use this secret anywhere in Temuair where magic is allowed, and your student must be near you. Once your student reaches the 11th insight, cast Guide, drop a coin in front of or beside you, and walk over it. This should activate your Guide secret without inconveniencing you or your student.
Arms Lecture is a secret given to Rogues that can be useful to young Aislings. Basically, once cast, you are given information on hunting, magic, armor, etc. To use this secret, cast it, then drop a coin in front of you and pick it up again. Essentially this is just an informative lecture, as the name implies.
Town
Shop
Skill/Secret
Str
Int
Wis
Con
Dex
Payment
Mileth
Special Skills Trainer
Needle Trap

?

?

?

?

?

Long forgotten
Stiletto Trap

?

?

?

?

?

Long forgotten
Appraise

3

12

4

3

3

Long forgotten
Food Lore

3

9

7

3

3

Long forgotten
Unlock

?

?

?

?

?

Long forgotten
Warrior Trainer
Taunt

3

5

5

3

5

Long forgotten
Throw Surigam

6

3

3

3

11

Long forgotten
Stab and Twist

18

3

3

3

12

Long forgotten
Blacksmith
Armor Lore

5

9

5

3

3

Long forgotten
Wizard (Dar)
Beag Breisleich

3

5

5

3

7

Long forgotten
Breisleich

5

21

22

3

9

Spider eye, viper gland, 5000 coins
Bank
Hairstyle

3

7

3

3

16

Long forgotten
Piet
Bank
Gem Polishing

3

3

3

5

5

Long forgotten
Fae Priestess
Eisd Creutair

3

30

24

3

3

5 uncut rubies, 10 uncut beryl, 2 coral earrings, 50000 coins
Abel
Bank
Tailor

5

8

3

3

12

Long forgotten
Armory
Mend Garment

5

6

3

3

10

assail 10, blouse, shirt, 5000 coins
Mend Weapon

4

5

3

3

9

assail 5, good dirk, 2500 coins
Mend Soori

?

?

?

?

?

good snow secret, 1000 coins
Fighter Trainer
Throw

10

3

3

10

10

Scorpion Sting
Undine
Wizard
Amnesia

5

8

12

4

5

throw Surigam 10
Rucesion
Special Skills Trainer
Poison Trap

6

7

6

8

12

4 Viper and 2 Centi Glands
Blind Trap

6

10

6

3

12

Long forgotten
Sleep

6

7

12

3

12

Scorpion Sting
Suomi
Special Skills Trainer
Coiled Bolt Trap

20

6

3

18

10

good blossom dagger, 10000 coins
Bolt Trap

30

6

3

22

12

Long forgotten
Hide

8

18

12

8

35

Bat wing, scorp sting, kob skull, 5000 coins
Armor Lore

3

15

8

6

3

Leather Greaves
Missile Lore

8

18

8

8

18

Center secret, 2000 coins
Peak

3

33

13

3

38

Long forgotten
Long Forgotten
Study Creature

3

49

3

3

4

Long forgotten
guide lecture

?

?

?

?

?

Long forgotten
arms lecture

?

?

?

?

?

Long forgotten
mentor

?

?

?

?

?

Long forgotten
nis

?

?

?

?

?

Long forgotten
Sense

?

?

?

?

?

Long forgotten
Jewelry
Price:
Lvl
Misc.:
Location
Bone Necklace

1500

15

Hit 5 Dam 1
Mileth Armory
Amber Necklace

1600

14

Dam 2
Mileth Armory
Elemental Amber, etc Necklaces

0

14

elemental attack
not available from mundanes
Pearl Necklace

800

9

Hit 5 Dam 1
Abel Armory
Gold Jade Necklace

800

10

Dam 1
Piet, Suomi Armory
Jade Necklace

1600

13

Hit 10
Suomi Armory
Earth Necklace

10000

6

Craeg attack
Rucesion Armory
Wind Necklace

10000

6

Athar attack
Rucesion Armory
Sea Necklace

10000

6

Sal attack
Rucesion, Undine Armory
Fire Necklace

10000

6

Srad attack
Rucesion Armory
Coral Earring

8000

8

Int. 2
Mileth Armory
Gold Earring

8000

8

Str. 2
Piet Armory
Ruby Earring

10000

8

Str. 1 Int. 1
Suomi Armory
Enchanted Earrings

0

12

various
not available from mundanes
Talos Ring

3000

4

hp 100
Piet Armory
Ruby Ring

20000

6

hp 200
Mileth Armory
Lapis Ring

50000

8

hp 300
Undine, Abel Armory
Spinal Ring

40000

11

hp 500 hit 2
Undine Armory
Amethyst Ring

50000

12

hp 200 MP 100
Mileth Armory
Jade Ring

100000

12

hp 300 MP 150
Suomi Armory
Emerald Ring

54000

12

hp 500 dam 2
Suomi Armory
Weapon:
Price:
Lvl
Location
Dirk

500

2

Abel, Suomi Weaponry
Eppe

500

2

Loures, Suomi Weaponry
Blossom Dagger

7000

14

Loures Weaponry
Center Dagger

3000

4

Loures Weaponry
Snow Dagger

1000

1

Loures Weaponry
Moon Dagger

12000

30

Loures, Rucesion Weaponry
Light Dagger

0

39

not available from mundanes
Lotus Dagger

0

75

not available from mundanes
Snow Secret

1500

1

Suomi Weaponry
Center Secret

4000

7

Suomi Weaponry
Blossom Secret

10000

21

Suomi Weaponry
Moon Secret

15000

39

Suomi Weaponry
Light Secret

23000

52

Suomi Weaponry
Lotus Secret

0

86

not available from mundanes
Whip

20000

26

Undine Higgler
* Please note that when weapons are smithed and made a better quality the insight required to use the item is increased.
Armor:
Price:
Lvl
Misc.:
Location
Boots (blue)

1000

1

Mileth Armory
Gray Boots

10000

11

Mileth Armory
Cured Boots (gray)

5000

24

Dex. 1
Mileth Armory
Shagreen Boots (green)

10000

33

Dex. 2
Mileth Armory
Cardovan Boots (tan)

0

50

Dex. 3
not available from mundanes
Lapis Boots (blue)

5000

56

Piet Higgler
Saffion Boots (purple)

0

66

Dex. 4
not available from mundanes
Magma Boots (red)

0

82

Dex. 5
not available from mundanes
Leather Gauntlet

2000

9

ac - 1
Mileth Armory
Enchanted Leather Gauntlet

14

ac - 1
not available from mundanes
Enchanted Iron Gauntlet

33

ac - 2
not available from mundanes
Enchanted Mythril Gauntlet

63

ac - 3
not available from mundanes
Leather Greaves

4000

6

ac - 2
Abel Armory
Enchanted Leather Greaves

14

ac - 2
not available from mundanes
Iron Greaves

20000

20

ac - 4
Abel Armory
Enchanted Iron Greaves

30

ac - 4
not available from mundanes
Enchanted Mythril Greaves

59

ac - 6
not available from mundanes
Wind Belt

10000

4

Athar defense
Rucesion Armory
Sea Belt

10000

4

Sal defense
Undine Armory
Earth Belt

10000

4

Craeg defense
Piet Armory
Fire Belt

10000

4

Srad attack
Suomi Armory
Elemental Leather Belt

0

12

not available from mundanes
Elemental Mythril Belt

0

12

Con 1
not available from mundanes
Elemental Hy-Brassyl Belt

0

?

Con 1, Wis. 1
not available from mundanes
Might Belt

0

?

not available from mundanes
Dark Belt

0

30

dark defense
not available from mundanes
Garment:
Price:
Lvl
Misc.:
Location:
Blouse

100

1

ac -4
Mileth Higgler
Cotte

900

1

ac -10
Rucesion Higgler
Brigadine

9400

11

ac -20
Abel Armory
Corsette

0

41

ac - 30, payment of 3 polished rubies
Abel Tailor
(Name of armor unknown)

0

71

ac - 40, payment of 12 polished rubies
Fae Glenn
Shirt

100

1

ac -4
Mileth Higgler
Scout Leather

900

1

ac -10
Piet Higgler
Dwarvish Leather

9400

11

ac -20
Piet Higgler
Paluton

0

41

ac - 30, payment of 3 polished rubies
Abel Tailor
Keaton

0

71

ac - 40, payment of 12 polished rubies
Fae Glenn